Programs – Junior Farmers
Junior Farmers Program
Objective:
For children to develop their skills through the management of a small farm
For children to demonstrate an understanding about caring for the natural environment
For children to have an awareness of the need to sustain farming as a natural resource for the community in the future
Project Inclusions:
Mini Animal Farm
Children will have the opportunity to care for and learn about farm animals and what they mean to us. Children will need to assist staff in feeding, grooming and cleaning pens.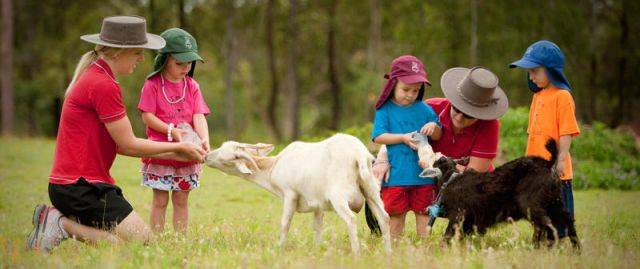 Vegetable Garden
Children will be required to prepare the plot, sow seeds, water, fertilize produce, weed and harvest. Staff will assist and guide children through this process. Produce will be used in the kitchen for children's meals which are provided in the centre.
Herb Garden
Children with the assistance of staff plant and cultivate herbs for use in the kitchen.
Creek Bed Rejuvenation Project
Planting on the creek bed to prevent soil erosion and creating a natural habitat for wildlife
Butterfly and Bird Garden
Planting flora that encourage butterflies and native birdlife into the garden as a learning opportunity for children.